DIGITAL PUBLICATION
"The thing I'm most proud of in regards to cocktails in my career is the recent development of nitrogen-infused tap cocktails. Using a process very similar to making nitro cold brew, we are forcing nitrogen into solution with classically stirred cocktails and dispensing them through a stout faucet as you would a Guinness or other nitro beer. The results have been a bit of a revelation for me and I'm super excited to continue to evolve the process to affect both the development of flavors through immediate aeration and augmenting the textural component of cocktails."
PUBLICATION & DIGITAL PUBLICATION
"Call her the restaurant whisperer. Derschang intuits potential and coaxes a place into being its best self. She knows who her customers are and doesn't try to lure anyone very far from their couches. Her places are neighborhood hangouts. If you've been to Oddfellows Café, Smith, Tallulah's, King's Hardware or Linda's Tavern (Derschang's first venture, opened in 1994), you've experienced her magic touch. She creates her signature look with art and found objects, light and shadow, wit and weird taxidermy."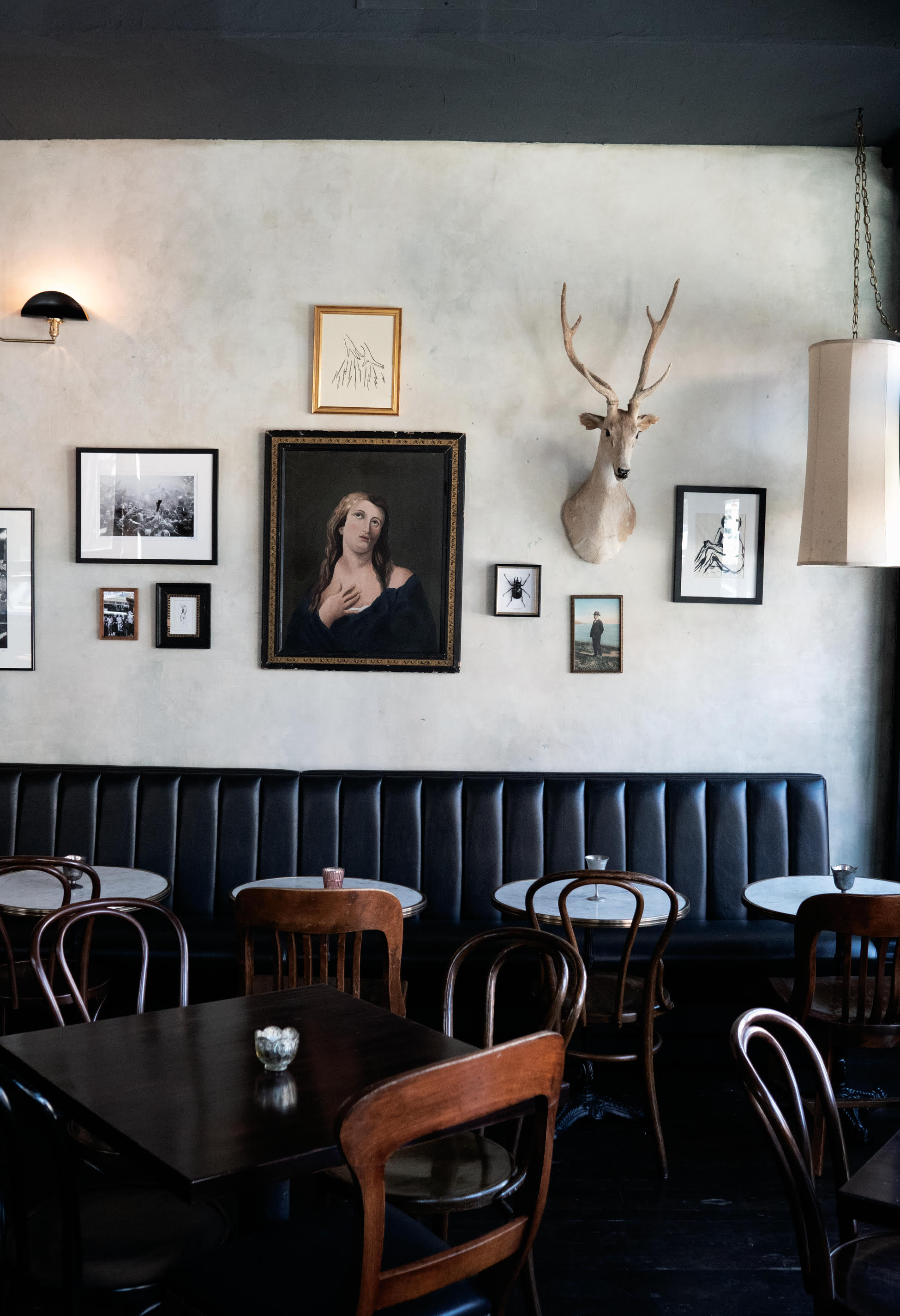 PUBLICATION & DIGITAL PUBLICATION
"Queen City marries the bar's original design elements-exposed brick, mahogany booths, and a 1920's style bar- with Derschang's signature edge and irreverence (black and white portraits of drag queens pepper the interior). 'We had a big responsibility to create a place that was updated yet maintained a sense of history", Derschang says. "And of course, royalty and drag queens totally work together!'"
PUBLICATION & DIGITAL PUBLICATION
"[She] moved into a skyward downtown condo two years ago, and felt her new environs lacked something: a burger-and-cocktail kind of joint. Almost cosmically a space became available; she opened such a place in the old Queen City Grill some five blocks from home. She didn't change much, except to call it simply Queen City, in keeping with its original moniker back when it was an 1890s-era saloon. It evokes a little bit of nostalgia and has Derschang's signature aesthetic touch."
PUBLICATION & DIGITAL PUBLICATION
"Derschang's restaurant group has dominated the Capitol Hill dining scene with places like Smith, two Oddfellows, and of course Linda's. Then there's King's Hardware in Ballard. But now Derschang is putting her effortlessly stylish mark on Belltown."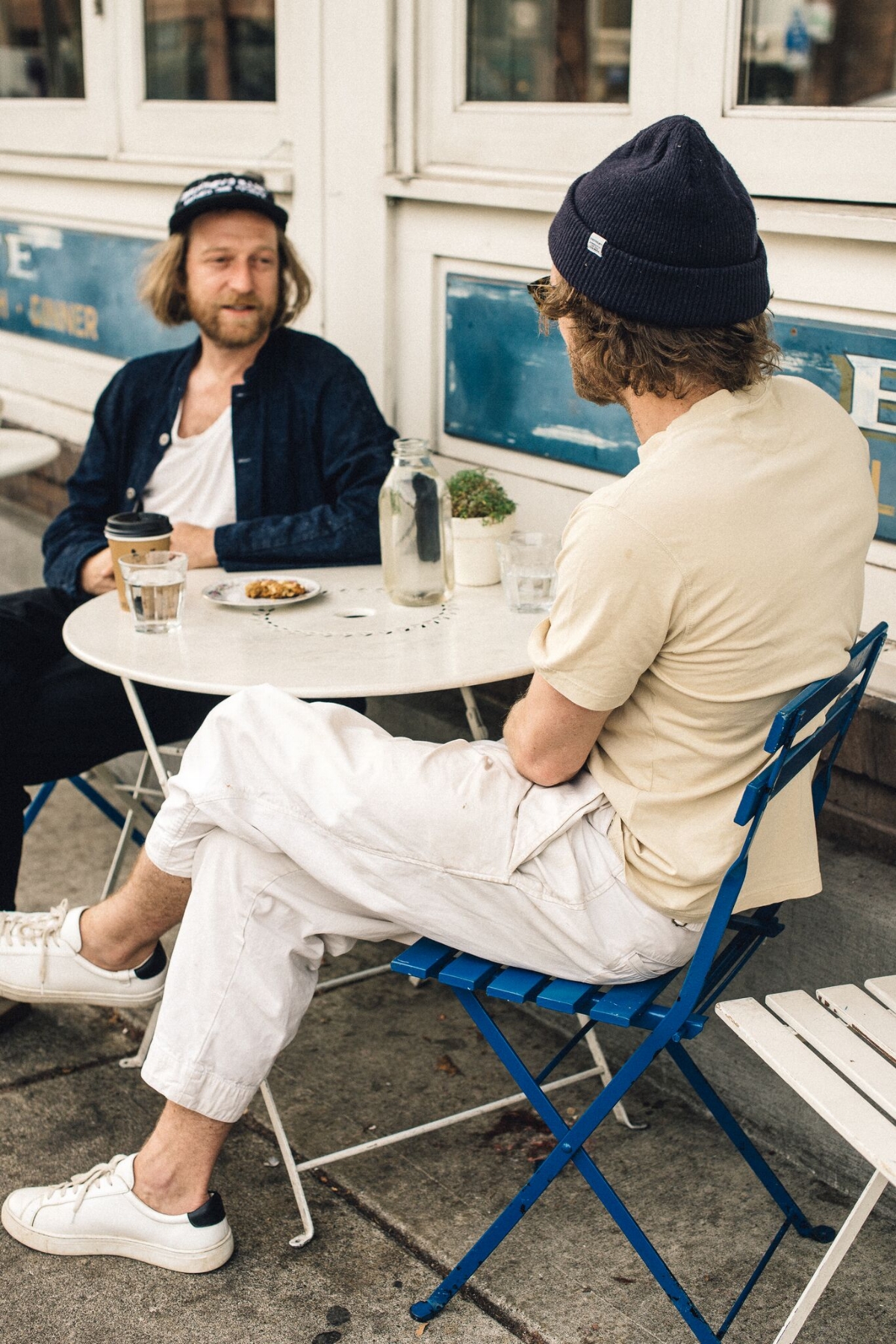 CLOTHING AND HOME GOODS RETAILER
"Oddfellows is a place that feels great to be in at anytime of day. The coffee, baked goods, and service are consistently pleasant and the Vintage Americana style is a perfect fit for the easy-come, easy-go attitude inside. We love visiting Oddfellows when natural light is pouring in from the large front windows, and when the weather is really good we enjoy sitting outside on one of their two patios.
DIGITAL PUBLICATION
"I refer to Oddfellows as 'Capital Hill's Living Room.' It's open to everyone for all occasions."
PUBLICATION
"Burroughs, the beverage director, has put his fingerprint on each Derschang project, from the California eat-veggies mantra of Tallulah's, where he makes fruit liqueurs and started an organic wine menu, to Smith, where he has built a solid, all-around craft-beer, whiskey and cocktail program."
PUBLICATION
"The next time some fine young Eastern European backpacker asks you to direct him to a hip area of town, steer him up Capitol Hill to Linda's. Twenty- and thirtysomethings hang out under the stuffed buffalo head at the bar, out on the back deck, or near the jukebox where they queue up Johnny Cash songs."
PUBLICATION
"King's Hardware is a dive bar. It's owned by Linda Derschang, so of course there's wall-to-wall taxidermy. She, more than anyone else, is responsible for that "wilderness chic" décor that's so popular here."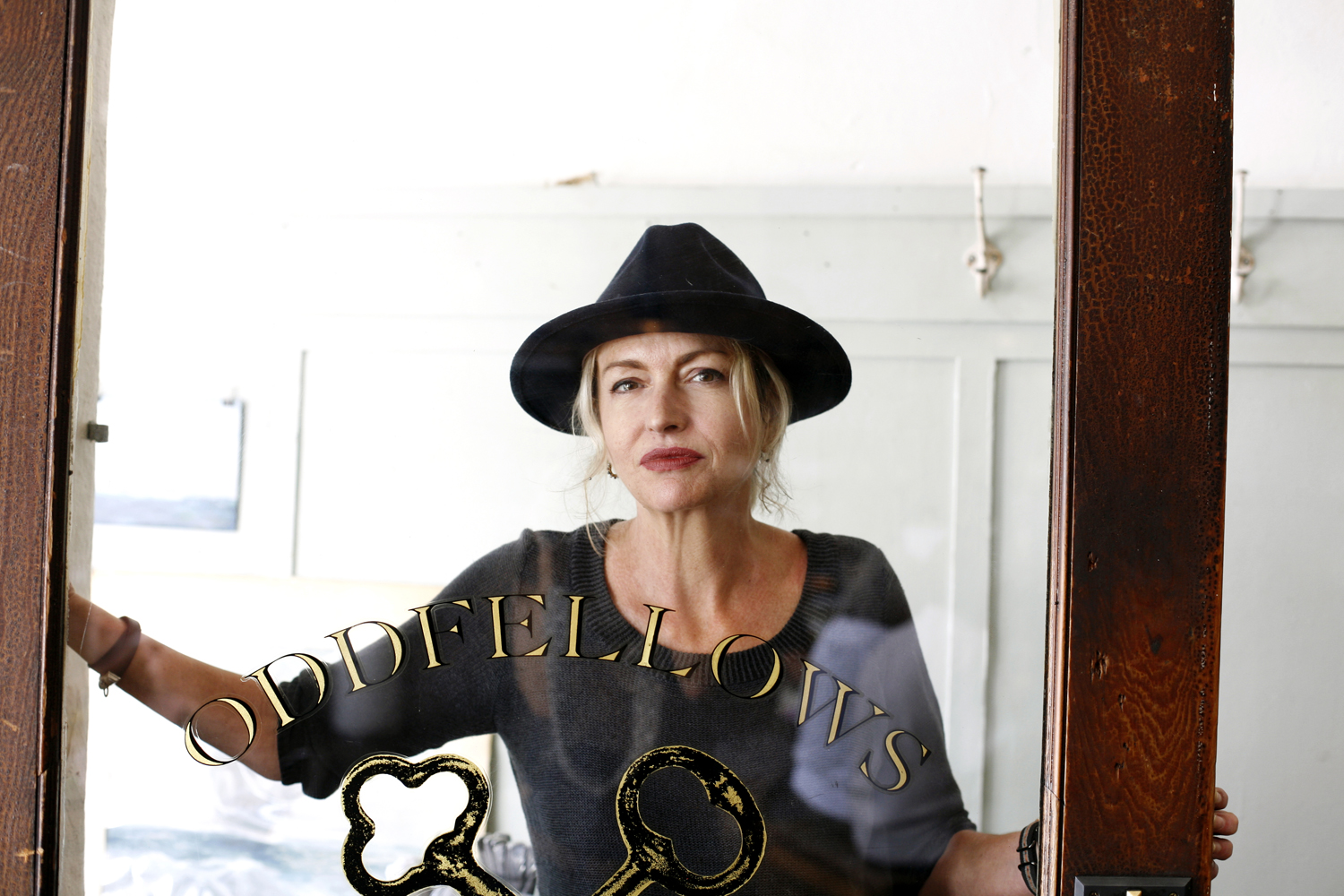 PUBLICATION
"You have a fridge like a lot of the rappers on MTV Cribs: so many beverages. Ten bottles of champagne, three SodaStream bottles, two bottles of lemonade, Rachel's Ginger Beer, a six-pack of Tecate, a gallon of milk, almond milk..."
PUBLICATION & DIGITAL PUBLICATION
"I care about the feeling a thing evokes. The lighting. The furniture. The fixtures. All of it has to come together in a room. Of course, there is the food and drinks. They have to be good also. But there are some places that worry only about the food and ignore the place, the environment. I don't. The mood is very important to me."
PUBLICATION
"Oddfellows is another one of Linda Derschang's restaurants on this list (Tallulah's is the other one). Located in the Oddfellows building next to Elliott Bay Bookstore and Totokaelo, it serves rustic food all day long. It is where the Capitol Hill's quirk and art crowd gather."
MOBILE PHOTOGRAPHY RETAILER
"Linda Derschang opened her first dive bar in Seattle in 1994, when women weren't doing that sort of thing. She is now the CEO of The Derschang Group, which owns 7 popular neighborhood establishments. She shares what it was like to start something in a field with mostly men and how the landscape has changed today."
PUBLICATION
"You wonder where it came from; Derschang's sixth sense about what it takes to make a bar stand out and stay up, when so many have fired up and burned out."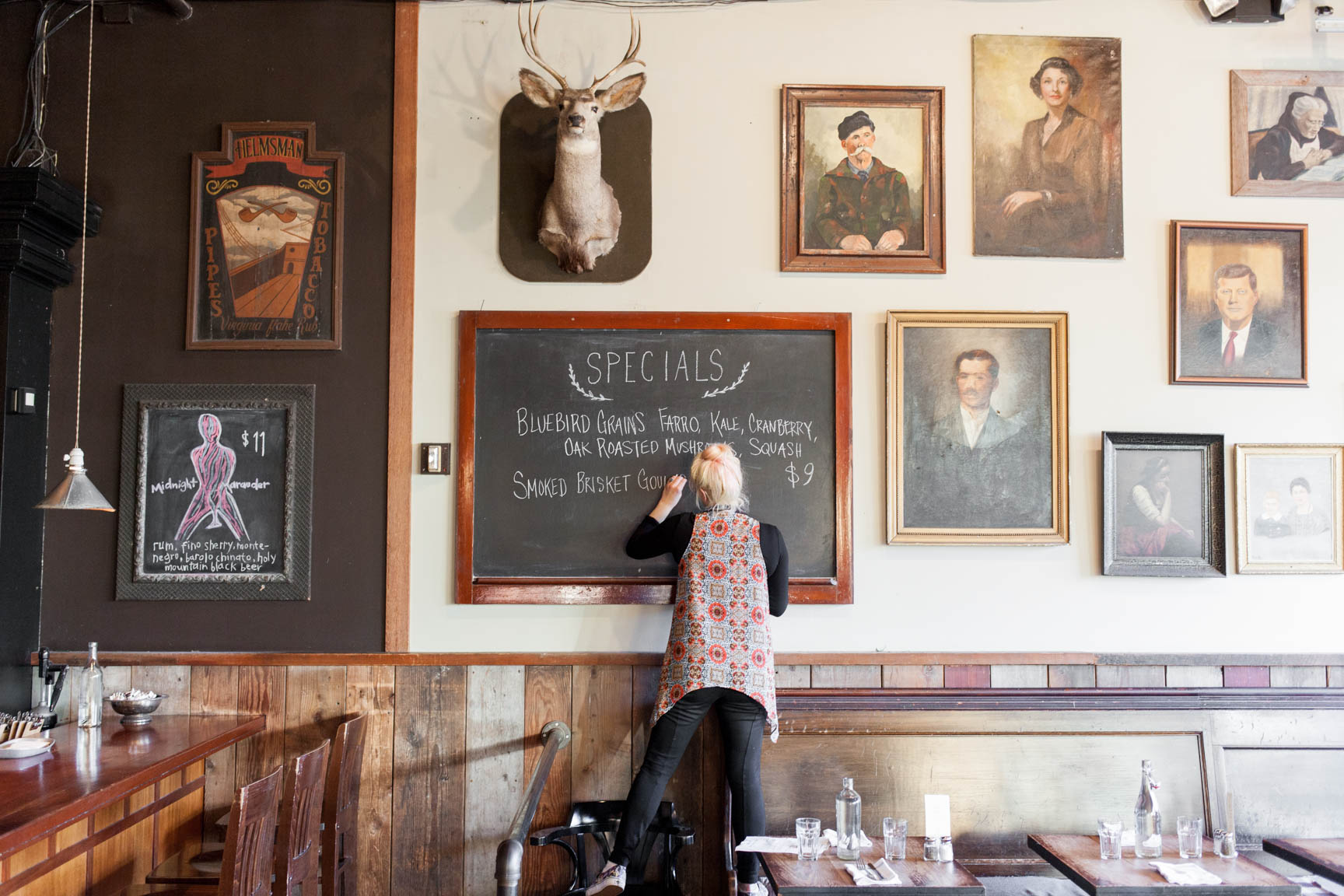 PUBLICATION
"The gin and tonic is the most interesting and complex drink you can get for under $10. At Smith on Capitol Hill, the tonic is made with 11 herbs and fruits to pair with Batch 206 gin. The gin's cucumber and tarragon flavors meld well with the floral and citrus notes in the mixer."
LIFESTYLE BLOG
"In Seattle's dynamic neighborhood of Capitol Hill, you'll find the Oddfellows Café + Bar, nestled inside the historic Oddfellows building. Built in 1908, Oddfellows still has many of the details from the buildings original construction—old wooden floors, original brick and windows—and it is nothing short of charming."
PUBLICATION
"Close to one of the most beautiful parks of Seattle, Volunteer Park, Tallulah's has a European and mid-century sophistication in contrast to the other Derschang restaurants. The food is also vegetable- and season-driven, with many gluten-free menu items."